Genes involved in mediating glucocorticoid effects at the tissue level in the CNS and in the peripheral tissues including heart, lung, vasculatrue and guts.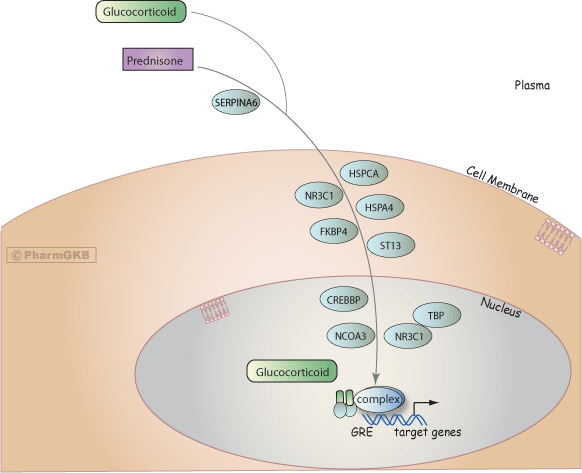 Reproductions of this diagram can be used with permission from PharmGKB.
Request permission
Description
This pathway delineates genes involved in steroid biology at three different levels:
the hypothalamic-anterior pituitary-adrenal axis which sets the level of circulating glucocorticoid in the body,
the effects of glucocorticoid on peripheral tissues including the CNS, heart, lung, gut and other organs at the surface of these cells and
the activation of transcriptionally regulated nuclear elements in these tissues where cellular processes such as inflammation are controlled.
In the HPA view, we have focused on the actions of corticotropin releasing factor (CRH) and Urocortin (UCN) on the anterior pituitary and peripheral tissues, in particular the adrenal gland where endogenous glucocorticoids are released. Stresscopin (UCN3) and stresscopin related peptide (UCN2) are also made in hypothalamic and extrahypothalamic areas, and the receptors CRHR1 and CRHR2 are also present in the hypothalamus, however these circuits and their relationships are still unclear.
The Pharmacodynamics view depicts the actions of endogenous glucocorticoids and glucocorticoid drugs, such as prednisone, on the peripheral tissues. This is of particular relevance to treatment of inflammatory diseases such as asthma, inflammatory bowel disease and arthritis. Clicking on the gene regulatory complex focuses in on the regulation of transcription by glucocorticoids and their receptors, and then clicking on "glucocorticoid responsive genes" bring up a list of references for these relationships which can be downloaded in excel format.
| | |
| --- | --- |
| Authors: | |
| Citation: | |
| History: | |
| Therapeutic Categories: | |
Entities in the Pathway
Genes
(9)
Drugs/Drug Classes
(6)
Related Pathways
Related Publications
Reference
Rationale and design of the multiethnic Pharmacogenomics in Childhood Asthma consortium. Pharmacogenomics. 2017. Farzan Niloufar, Vijverberg Susanne J, Andiappan Anand K, Arianto Lambang, Berce Vojko, Blanca-López Natalia, Bisgaard Hans, Bønnelykke Klaus, Burchard Esteban G, Campo Paloma, Canino Glorisa, Carleton Bruce, Celedón Juan C, Chew Fook Tim, Chiang Wen Chin, Cloutier Michelle M, Daley Denis, Den Dekker Herman T, Dijk Nicole F, Duijts Liesbeth, Flores Carlos, Forno Erick, Hawcutt Daniel B, Hernandez-Pacheco Natalia, de Jongste Johan C, Kabesch Michael, Koppelman Gerard H, Manolopoulos Vangelis G, Melén Erik, Mukhopadhyay Somnath, Nilsson Sara, Palmer Colin N, Pino-Yanes Maria, Pirmohamed Munir, Potočnki Uros, Raaijmakers Jan A, Repnik Katja, Schieck Maximilian, Sio Yang Yie, Smyth Rosalind L, Szalai Csaba, Tantisira Kelan G, Turner Steve, van der Schee Marc P, Verhamme Katia M, Maitland-van der Zee Anke H.
Downloads