Simplified diagram of mechanism of action of vemurafenib and downstream signaling effects.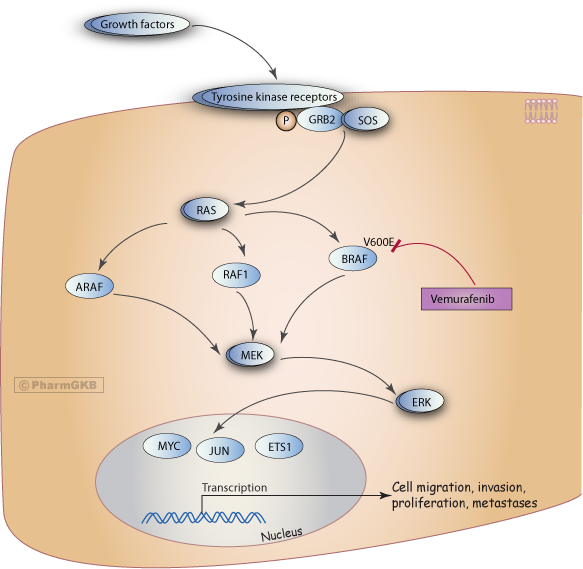 Reproductions of this diagram can be used with permission from PharmGKB.
Request permission
Description
One of the established signaling pathways in cancer development is the mitogen-activated protein kinase (MAPK) pathway. This pathway links extracellular stimuli, such as growth factors and hormone, to gene expression in the nucleus. Growth factor signals progress through the proteins RAS, BRAF, MEK and ERK, leading to cell proliferation. Mutations in the BRAF gene cause elevated kinase activity of the BRAF protein, which is seen in 8% of all solid tumors and in 50% of melanoma cases. The BRAF V600E mutation (rs113488022), which involves the substitution of valine (V) by glutamate (E) within the activation segment of the kinase domain , represents the vast majority of all BRAF mutations in cancer. Vemurafenib, approved by the FDA in August of 2011, is an oral BRAF inhibitor that specifically targets the V600E isoform [Articles:20818844, 22028422]. Clinical studies showed that vemurafenib improved rates of overall and progression-free survival in patients with previously untreated melanoma with the BRAF V600E mutation [Article:21639808].
The RAF family is a set of serine/threonine kinases, which include BRAF, ARAF and CRAF (also called RAF1), that signals through phosphorylation of other downstream kinases. Upstream from RAF is RAS, the guanine nucleotide-binding protein activated by the binding of GTP. In the normal signaling pathway, an extracellular signal binds to a receptor tyrosine kinase on the cell surface. The types of receptors that signal through tyrosine kinases include those for fibroblast growth factors (FGFR), plate-derived growth factors (PDGFR), vascular epidermal growth factors (VEGFR), epidermal growth factors (EGFR), and nerve growth factors (NGFR), among others. When bound to the ligand, the receptor tyrosine kinase undergoes autophosphorylation of its tyrosine residues. This results in the phosphorylation of GRB2, an adapter protein that binds to the guanine nucleotide exchange factor, SOS. The GRB2/SOS complex stimulates inactive RAS by replacing bound GDP with GTP [Article:11294822]. Activated RAS causes BRAF to form a dimer with the other RAF isoforms ARAF and CRAF [Article:22083257]. Dimerization activates and phosphorylates MEK, which is a dual-specificity tyrosine and serine/threonine kinase. The main downstream target of MEK is ERK (also called MAPK). Upon phosphorylation by MEK, ERK can directly phosphorylate and activate a variety of transcription factors, such as Ets-1, c-Jun and c-Myc [Article:16854453].
In mutated BRAF, the protein does not form dimers with the other RAF isoforms. The resulting monomer signals down the pathway regardless of any extracellular growth stimuli or RAS activity, resulting in elevated growth activity. The V600E isoform results in a structural conformation change that makes the ATP binding site constantly accessible [Article:22028422]. Vemurafenib is an ATP-competitive inhibitor of mutant BRAF [Article:22028422]. Treatment with vemurafenib inhibits the signaling of mutant BRAF monomers, leading to G1 cell-cycle arrest [Articles:22083257, 22028422]. BRAF inhibition leads to increased expression of melanocyte antigens and increased activity of cytotoxic T cells [Article:22037033].
In clinical trials, treatment with vemurafenib has been shown to reduce activation of downstream signals and cellular proliferation [Article:20818844]. Based on the results of the phase 1 dose-escalation trial, a recommended dose of 960 mg twice daily was used in an extension phase trial. The extension cohort included 32 melanoma patients all with the V600E mutation. 26 of the 32 patients showed a response to the treatment; 2 patients had a complete response and 24 patients had a partial response. For 7 patients in the extension cohort, tumor biopsy specimens were taken at baseline and at day 15 [Article:20818844]. In all of these specimens, there was reduction in levels of phosphorylated ERK, cyclin D1 and Ki-67, suggesting that vemurafenib effectively inhibited the MAPK pathway.
Entities in the Pathway
Genes
(43)
ARAF
,
BRAF
,
EGF
,
EGFR
,
ETS1
,
FGF1
,
FGF2
,
FGF3
,
FGF4
,
FGF5
,
FGF6
,
FGF7
,
FGFR1
,
FGFR2
,
FGFR3
,
FGFR4
,
FGFR6
,
FLT1
,
FLT4
,
GRB2
,
HRAS
,
JUN
,
KDR
,
KRAS
,
MAP2K1
,
MAP2K2
,
MAPK1
,
MAPK3
,
MRAS
,
MYC
,
NRAS
,
PDGFA
,
PDGFB
,
PDGFC
,
PDGFD
,
PDGFRA
,
PDGFRB
,
RAF1
,
RRAS
,
SOS1
,
SOS2
,
VEGFA
,
VEGFB
Drugs/Drug Classes
(1)
Relationships in the Pathway
| Arrow From | Arrow To | Controllers | PMID |
| --- | --- | --- | --- |
| ARAF | ARAF | HRAS, KRAS, MRAS, NRAS, RRAS | 22083257 |
| BRAF | BRAF | vemurafenib, HRAS, KRAS, MRAS, NRAS, RRAS | 22028422, 22083257 |
| MAPK1, MAPK3 | MAPK1, MAPK3 | MAP2K1, MAP2K2 | 11294822 |
| GRB2-SOS (GRB2, SOS1, SOS2) | GRB2-SOS (GRB2, SOS1, SOS2) | EGFR, FGFR1, FGFR2, FGFR3, FGFR4, FGFR6, FLT1, FLT4, KDR, PDGFRA, PDGFRB | 11294822 |
| MAP2K1, MAP2K2 | MAP2K1, MAP2K2 | ARAF, BRAF, RAF1 | 22083257 |
| RAF1 | RAF1 | HRAS, KRAS, MRAS, NRAS, RRAS | 22083257 |
| HRAS, KRAS, MRAS, NRAS, RRAS | HRAS, KRAS, MRAS, NRAS, RRAS | GRB2-SOS (GRB2, SOS1, SOS2) | 11294822 |
| ETS1, JUN, MYC | ETS1, JUN, MYC | MAPK1, MAPK3 | 16854453 |
| EGF, FGF1, FGF2, FGF3, FGF4, FGF5, FGF6, FGF7, PDGFA, PDGFB, PDGFC, PDGFD, VEGFA, VEGFB | EGFR, FGFR1, FGFR2, FGFR3, FGFR4, FGFR6, FLT1, FLT4, KDR, PDGFRA, PDGFRB | | 11294822 |
Download data in TSV format . Other formats are available on the Downloads/LinkOuts tab.
Related Pathways
Related Chemicals
Downloads