Schematic representation of metformin transport.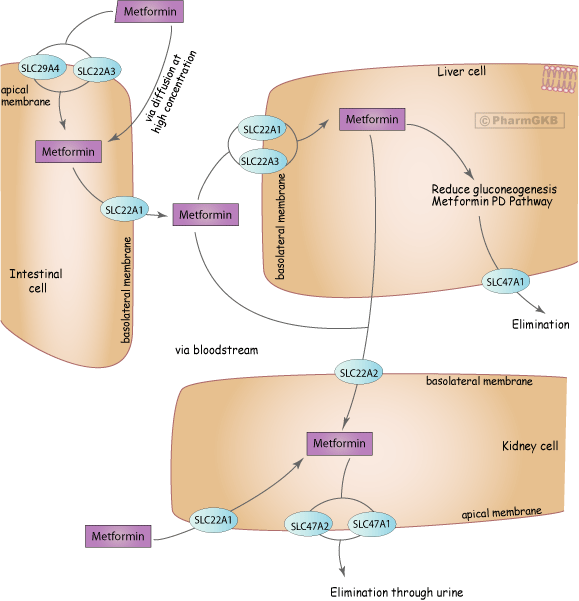 Reproductions of this diagram can be used with permission from PharmGKB.
Request permission
Description
Metformin is not metabolized [Article:16879084] and is excreted unchanged in the urine with a half-life of approximately 5 hours [Article:21241070]. The population mean for renal clearance was estimated to be 510 +/- 120 mL/min. The active tubular secretion in the kidney is the principle route of metformin elimination. The drug is widely distributed into body tissues including intestine, liver and kidney via various organic cation transporters.
The intestinal absorption of metformin may be primarily mediated by plasma membrane monoamine transporter (PMAT/SLC29A4), which is expressed on the luminal side of the enterocytes [Article:17600084]. However, there is no current in vivo data on the role of PMAT in the disposition and pharmacological effect of metformin. OCT3/SLC22A3 is also expressed in the brush boarder of the enterocytes and may contribute to metformin uptake [Articles:16263091, 21241070]. Additionally, OCT1/SLC22A1, which is expressed on the basolateral membrane and cytoplasm of the enterocytes, may facilitate transfer of metformin into the interstitial fluid [Article:16263091]. The role of OCT1 and OCT3 in intestinal transport of metformin remains to be further validated.
The hepatic uptake of metformin is primarily mediated by OCT1/SLC22A1 and OCT3/SLC22A3, which are expressed on the basolateral membrane of hepatocytes [Articles:18384255, 21241070]. Metformin is also a good substrate for human multidrug and toxin extrusion 1 (MATE1/SLC47A1) and MATE2-K/SLC47A2 [Articles:19332510, 19164462, 17509534, 18674516]. MATE1/SLC47A1 is highly expressed in the liver, kidney and skeletal muscle [Article:16330770] and may contribute to the excretion of metformin from both liver and kidney. However, MATE1's role in hepatic secretion has been questioned, as biliary excretion of metformin seems to be insignificant in humans [Article:21241070]. Data in Mate1 knockout mice suggest that at least in the rodent, biliary excretion of metformin occurs [Article:20065018]. Recent drug-drug interaction studies suggest an important role of MATE1 and/or MATE2-K in metformin renal elimination [Article:22072731]. MATE2-K/SLC47A2 is predominantly expressed in the apical membrane of the renal proximal tubule cells and contributes to the renal excretion of metformin.
The uptake of metformin from circulation into renal epithelial cells is primarily facilitated by OCT2/SLC22A2 [Article:18384255], which is expressed predominantly at the basolateral membrane in the distal renal tubules. Renal excretion of metformin is mediated mainly via MATE1/SLC47A1 and MATE2-K/SLC47A2 [Articles:19332510, 19164462, 18674516]. OCT1 is also expressed on the apical and subapical domain side of both the proximal and distal tubules in kidney and may play important roles in metformin reabsorption in kidney tubules [Article:19536068]. Plasma membrane monoamine transporter (PMAT/SLC29A4) is expressed on the apical membrane of renal epithelial cells, and may play a role in renal reabsorption of metformin [Article:17018840]. However, there is no in vivo data yet demonstrating this role. Recently, P-gp (ABCB1) and BCRP (ABCG2) are shown to be involved in the efflux of metformin across placental apical membranes [Article:20350646].
Entities in the Pathway
Genes
(6)
Drugs/Drug Classes
(1)
Relationships in the Pathway
Download data in TSV format . Other formats are available on the Downloads/LinkOuts tab.
Related Pathways
Downloads