Diagrammatic representation of the transport and metabolism of doxorubicin.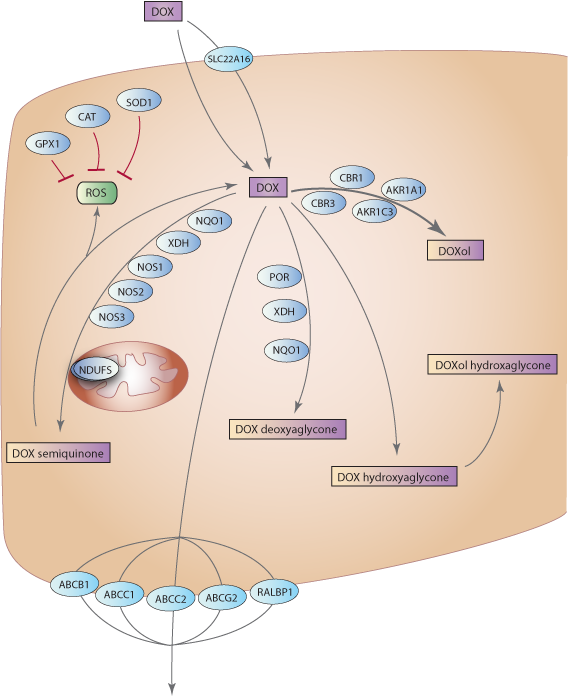 Reproductions of this diagram can be used with permission from PharmGKB.
Request permission
Description
There are 3 main metabolic routes of anthracycline metabolism: one-electron reduction, two-electron reduction and deglycosidation. A large proportion of DOX however, approximately 50%, is eliminated from the body unchanged [Article:19442138].
Two-electron reduction of DOX to a secondary alcohol, DOXol is the major metabolic pathway [Article:19442138]. There are several enzymes that can carry out this reaction and their respective balance is different in different cell types [Article:18635746]. For example, AKR1A is considered the most important in heart tissue while CBR1 is the major contributor in liver [Articles:18635746, 12963485, 19442138]. CBR3 is also capable of forming DOXol [Article:20007405]. The role of AKR1C3 is unclear with some studies showing metabolism of DOX and others disputing it [Articles:18616992, 18635746, 12963485].
One-electron reduction of DOX is carried out by several oxidoreductases to form a DOX-semiquinone radical [Article:2555273]. These enzymes include mitochondrial NADH dehydrogenases present in the sarcoplasmic reticulum and mitochondria: NDUFS2, NDUFS3, and NDUFS7 (EC 1.6.99.3) [Articles:12688675, 2850270, 9618942] as well as cytosolic enzymes NADPH dehydrogenase (NQO1) [Article:12688675], xanthine oxidase (XDH) [Articles:12688675, 1911046] and nitric oxide synthases (NOS1, NOS2 and NOS3) [Articles:9333325, 15054088]. Re-oxidation of the DOX-semiquinone radical back to DOX leads to the formation of reactive oxygen species (ROS) and hydrogen peroxide [Article:9576481]. ROS, causing oxidative stress, can be deactivated by glutathione peroxidase (GPX1), catalase (CAT) and superoxide dismutase (SOD1) [Article:12751786]. It is the ROS released by this route of metabolism, rather than DOX-semiquinone. that some consider responsible for drug effects and adverse cardiotoxicity.
The third, minor route, deglycosidation, accounts for approximately 1-2% of DOX metabolism. This can be reductive to form the deoxyaglycone, or hydrolytic to form the hydroxyaglycone. The enzymes and their candidate genes for this process are less well characterized [Articles:19442138, 10813659]. In heart, no DOX hydroxyaglycone could be detected; it appears to be rapidly converted to DOXol aglycone [Article:10813659]. In heart, NADPH is required for formation of aglycones suggesting that NADPH dependent hydrolase and reductase-type glycosidases are responsible [Article:10813659]. NADPH-cytochrome P450 reductase (POR) was shown in vitro to metabolize DOX to DOX 7-deoxyaglycone [Articles:6305277, 10860924]. XDH and NQO1 were also implicated in this process [Article:10860924].
Transport
Several transporters have been shown be involved transporting doxorubicin including ABCB1, ABCC1, ABCC2, ABCG2, RALBP1 (export) and SLC22A16 (import) [Articles:12370750, 15164094, 7214365, 1352877, 3180056, 17704753, 11172691, 7954421, 12527936, 11410522, 17559346]. Genetic variation in transporters has been associated with drug resistance (see Doxorubicin Cancer PD Pathway for more details).
Pharmacogenomics (PGx)
That there exist considerable inter-individual variations in the pharmacokinetic parameters of DOX and DOXol has been known for a long time [Article:2265458]. However, the impact of genetic variants on DOX metabolism and response, including cardiotoxicity, has only recently begun to be studied. Historically, only cumulative anthracycline dose has been confirmed as a significant risk factor for DOX-induced cardiotoxicity [Article:6651020].
Entities in the Pathway
Genes
(22)
ABCB1
,
ABCC1
,
ABCC2
,
ABCG2
,
AKR1A1
,
AKR1C3
,
CAT
,
CBR1
,
CBR3
,
GPX1
,
NDUFS2
,
NDUFS3
,
NDUFS7
,
NOS1
,
NOS2
,
NOS3
,
NQO1
,
POR
,
RALBP1
,
SLC22A16
,
SOD1
,
XDH
Drugs/Drug Classes
(1)
Relationships in the Pathway
| Arrow From | Arrow To | Controllers | PMID |
| --- | --- | --- | --- |
| DOX hydroxyaglycone | doxorubicinol hydroxyaglycone | | 10813659, 19442138 |
| DOX semiquinone | doxorubicin, reactive oxygen species | | 19442138 |
| doxorubicin | DOX deoxyaglycone | NQO1, POR, XDH | 10860924, 19442138, 6305277 |
| doxorubicin | DOX hydroxyaglycone | | 19442138 |
| doxorubicin | DOX semiquinone | NDUFS2, NDUFS3, NDUFS7, NOS1, NOS2, NOS3, NQO1, XDH | 12688675, 15054088, 1911046, 2850270, 9333325 |
| doxorubicin | doxorubicinol | AKR1A1, AKR1C3, CBR1, CBR3 | 12963485, 18616992, 18635746, 19442138, 20007405 |
| reactive oxygen species | reactive oxygen species | CAT, GPX1, SOD1 | |
| doxorubicin | doxorubicin | ABCB1, ABCC1, ABCC2, ABCG2, RALBP1 | 11172691, 12370750, 12527936, 1352877, 15164094, 17704753, 3180056, 7214365, 7954421 |
| doxorubicin | doxorubicin | SLC22A16 | 17559346 |
| doxorubicin | doxorubicin | | |
Download data in TSV format . Other formats are available on the Downloads/LinkOuts tab.
Related Pathways
Downloads