Nateglinide metabolism and transport in liver cell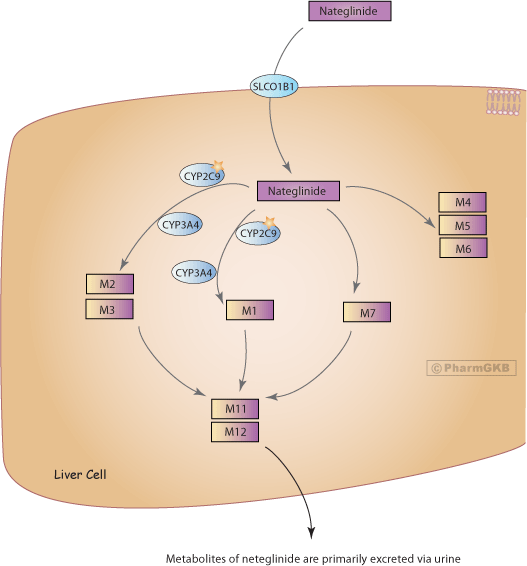 Reproductions of this diagram can be used with permission from PharmGKB.
Request permission
Description
Nateglinide is an anti-diabetic drug that belongs to the meglitinide category. It helps to lower blood glucose levels by blocking ATP-dependent potassium channels in pancreatic beta cells, which in turn, stimulates insulin secretion. Similar to repaglinide, nateglinide also has a rapid onset and short duration of action. It has been used alone or in combination with other medications to treat patient with type 2 diabetes.
Nateglinide is administered 0-30 minutes before meals as a meal time glucose regulator. It is rapidly absorbed from the gastrointestinal tract and undergoes extensive biotransformation in liver to at least nine metabolites. Of the 9 metabolites, the majority of them are hydroxylation products with M1 as the predominant metabolite which is monohydroxylated at the methane carbon. These major metabolites have much less anti-diabetic activity than nateglinide. The only metabolite that possesses significant pharmacological activity is the isoprene metabolite M7. However, due to low abundance of M7 (<7%), the vast majority of the pharmacological effect is attributed to the parent compounds. Nateglinide is excreted predominantly in urine as metabolites, with only 16% of the dose excreted unchanged. In vitro inhibition experiments with human hepatic microsomes and recombinant human cytochrome P450s suggest the involvement of mainly CYP2C9, and to a lesser extent CYP3A4, in nateglinide metabolism. Patients carrying the CYP2C9*3 alleles have significantly reduced clearance of nateglinide and may have increased risk for hyperglycemia. Similar to repaglinide, genetic polymorphism in hepatic-uptake transporter SLCO1B1 (OATP1B1) is another independent determinant of the pharmacokinetics of nateglinide.
| | |
| --- | --- |
| Authors: | |
| Citation: | |
| History: | |
| Therapeutic Categories: | Endocrine and Metabolic Disease agents |
Entities in the Pathway
Genes
(3)
Drugs/Drug Classes
(1)
Relationships in the Pathway
Download data in TSV format . Other formats are available on the Downloads/LinkOuts tab.
Related Pathways
Downloads