Gene:
PIK3CA
phosphatidylinositol-4,5-bisphosphate 3-kinase, catalytic subunit alpha
PharmGKB contains no prescribing info for this . Contact us to report known genotype-based dosing guidelines, or if you are interested in developing guidelines.
PharmGKB has no annotated drug labels with pharmacogenomic information for this . If you know of a drug label with PGx, send us a message.
PharmGKB contains no Clinical Variants that meet the highest level of criteria.
To see more Clinical Variants with lower levels of criteria, click the button at the bottom of the table.
Type

Toxicity/ADR

Variant

Genes

Phenotypes

OMB Race

White
Type

Dosage

Variant

Genes

Phenotypes

OMB Race

White

Race Notes

Norwegian
? = Mouse-over for quick help
The table below contains information about pharmacogenomic variants on PharmGKB. Please follow the link in the "Variant" column for more information about a particular variant. Each link in the "Variant" column leads to the corresponding PharmGKB Variant Page. The Variant Page contains summary data, including PharmGKB manually curated information about variant-drug pairs based on individual PubMed publications. The PMIDs for these PubMed publications can be found on the Variant Page.
The tags in the first column of the table indicate what type of information can be found on the corresponding Variant Page on the appropriate tab.
Links in the "Drugs" column lead to PharmGKB Drug Pages.
List of all variant annotations for PIK3CA
Variant?
(147)
Alternate Names ?
Chemicals ?
Alleles ?
(+ chr strand)
Function ?
Amino Acid?
Translation
VA
H4
N/A
N/A
N/A
VA
H5
N/A
N/A
N/A
rs2699887
NC_000003.11:g.178866408C>T, NC_000003.12:g.179148620C>T, NG_012113.2:g.5098C>T, NM_006218.2:c.-77+17C>T, NR_125401.1:n.-647G>A, XM_006713658.2:c.-77+401C>T, XM_011512894.1:c.-1173C>T, XR_241620.1:n.-643G>A

C > T

SNP
rs870995
NC_000003.11:g.178913006C>A, NC_000003.12:g.179195218C>A, NG_012113.2:g.51696C>A, NM_006218.2:c.-76-3532C>A, XM_006713658.2:c.-76-3532C>A, XM_011512894.1:c.-76-3532C>A, rs59793299

C > A

SNP
Alleles, Functions, and Amino Acid Translations are all sourced from dbSNP 147
Overview
| | |
| --- | --- |
| Alternate Names: | None |
| Alternate Symbols: | PI3K |
| PharmGKB Accession Id: | PA33308 |
Details
| | |
| --- | --- |
| Cytogenetic Location: | chr3 : q26.32 - q26.32 |
| GP mRNA Boundary†: | chr3 : 178866311 - 178952500 |
| GP Gene Boundary†: | chr3 : 178856311 - 178955500 |
| Strand: | plus |
Visualization
UCSC has a Genome Browser that you can use to view PharmGKB annotations for this gene in context with many other sources of information.
View on UCSC Browser
† The mRNA boundaries are calculated using the gene's default feature set from NCBI, mapped onto the UCSC Golden Path. PharmGKB sets gene boundaries by expanding the mRNA boundaries by no less than 10,000 bases upstream (5') and 3,000 bases downstream (3') to allow for potential regulatory regions.
Haplotype Overview
Haplotypes were extracted from Table 4 in [Article:22158333].
Source: PharmGKB
All alleles in the download file are on the positive chromosomal strand. PharmGKB considers the first haplotype listed in each table as the reference haplotype for that set.
PharmGKB Curated Pathways
Pathways created internally by PharmGKB based primarily on literature evidence.


EGFR Inhibitor Pathway, Pharmacodynamics
Model non-tissue specific cancer cell displaying genes that may be involved in the treatment using epidermal growth factor receptor specific tyrosine kinase inhibitors or monoclonal antibodies.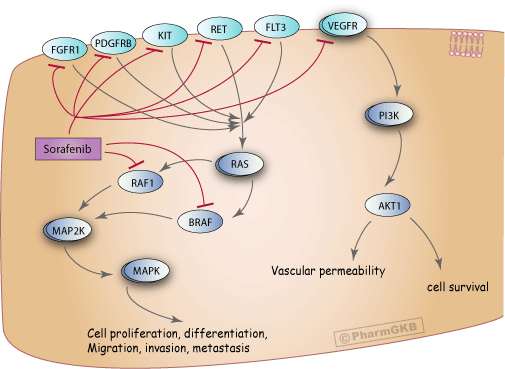 Publications related to PIK3CA: 42
| | |
| --- | --- |
| | The role of germline variants in chemotherapy outcome in brain tumors: a systematic review of pharmacogenetic studies. Pharmacogenomics. 2017. Klumpers Marije J, et al. |
| | AKT-phosphorylated FOXO1 suppresses ERK activation and chemoresistance by disrupting IQGAP1-MAPK interaction. The EMBO journal. 2017. Pan Chun-Wu, et al. |
| | The pharmacogenomics of drug resistance to protein kinase inhibitors. Drug resistance updates : reviews and commentaries in antimicrobial and anticancer chemotherapy. 2016. Gillis Nancy K, et al. |
| | MultiDimensional ClinOmics for Precision Therapy of Children and Adolescent Young Adults with Relapsed and Refractory Cancer: A Report from the Center for Cancer Research. Clinical cancer research : an official journal of the American Association for Cancer Research. 2016. Chang Wendy, et al. |
| | Molecular Signature of Response to Pazopanib Salvage Therapy for Urothelial Carcinoma. Clinical genitourinary cancer. 2016. Pinciroli Patrizia, et al. |
| | Targeting therapeutic liabilities engendered by PIK3R1 mutations for cancer treatment. Pharmacogenomics. 2016. Cheung Lydia Wt, et al. |
| | The potential anticancer effect of beta-blockers and the genetic variations involved in the interindividual difference. Pharmacogenomics. 2016. He Ruo-Hui, et al. |
| | Targeting molecules to medicine with mTOR, autophagy, and neurodegenerative disorders. British journal of clinical pharmacology. 2015. Maiese Kenneth. |
| | Prognostic utility of molecular factors by age at diagnosis of colorectal cancer. Clinical cancer research : an official journal of the American Association for Cancer Research. 2015. McCleary Nadine J, et al. |
| | Exome sequencing of desmoplastic melanoma identifies recurrent NFKBIE promoter mutations and diverse activating mutations in the MAPK pathway. Nature genetics. 2015. Shain A Hunter, et al. |
| | In situ single-cell analysis identifies heterogeneity for PIK3CA mutation and HER2 amplification in HER2-positive breast cancer. Nature genetics. 2015. Janiszewska Michalina, et al. |
| | De novo resistance biomarkers to anti-HER2 therapies in HER2-positive breast cancer. Pharmacogenomics. 2015. Madrid-Paredes Adela, et al. |
| | Elucidating the genomic landscape of breast cancer: how will this affect treatment?. Pharmacogenomics. 2015. Stjepanovic Neda, et al. |
| | Molecular biomarkers in colorectal carcinoma. Pharmacogenomics. 2015. Puerta-García Elena, et al. |
| | Using circulating tumor cells to guide therapy in breast cancer: could this replace biopsies?. Pharmacogenomics. 2015. Dawood Shaheenah, et al. |
| | PIK3CA mutations are associated with lower rates of pathologic complete response to anti-human epidermal growth factor receptor 2 (her2) therapy in primary HER2-overexpressing breast cancer. Journal of clinical oncology : official journal of the American Society of Clinical Oncology. 2014. Loibl Sibylle, et al. |
| | Targeting pathways downstream of KRAS in lung adenocarcinoma. Pharmacogenomics. 2014. Zhu Zehua, et al. |
| | MicroRNA-10a controls airway smooth muscle cell proliferation via direct targeting of the PI3 kinase pathway. FASEB journal : official publication of the Federation of American Societies for Experimental Biology. 2014. Hu Ruoxi, et al. |
| | mTOR Signaling Cascade in Psoriatic Disease: Double Kinase mTOR Inhibitor a Novel Therapeutic Target. Indian journal of dermatology. 2014. Raychaudhuri Smriti K, et al. |
| | ESR1 ligand-binding domain mutations in hormone-resistant breast cancer. Nature genetics. 2013. Toy Weiyi, et al. |
| | Emerging landscape of oncogenic signatures across human cancers. Nature genetics. 2013. Ciriello Giovanni, et al. |
| | Recommendations from the EGAPP Working Group: can testing of tumor tissue for mutations in EGFR pathway downstream effector genes in patients with metastatic colorectal cancer improve health outcomes by guiding decisions regarding anti-EGFR therapy?. Genetics in medicine : official journal of the American College of Medical Genetics. 2013. Evaluation of Genomic Applications in Practice and Prevention (EGAPP) Working Group. |
| | A Novel Fully Automated Molecular Diagnostic System (AMDS) for Colorectal Cancer Mutation Detection. PloS one. 2013. Kitano Shiro, et al. |
| | Efficacy of histone deacetylase and estrogen receptor inhibition in breast cancer cells due to concerted down regulation of Akt. PloS one. 2013. Thomas Scott, et al. |
| | Mutations and deregulation of Ras/Raf/MEK/ERK and PI3K/PTEN/Akt/mTOR cascades which alter therapy response. Oncotarget. 2012. McCubrey James A, et al. |
| | Involvement of phosphatidylinositol 3-kinase/Akt pathway in gemcitabine-induced apoptosis-like cell death in insulinoma cell line INS-1. Biological & pharmaceutical bulletin. 2012. Motoshige Hironori, et al. |
| | Development of molecular biomarkers in individualized treatment of colorectal cancer. Clinical colorectal cancer. 2011. De Mattos-Arruda Leticia, et al. |
| | Pharmacogenetic predictors for EGFR-inhibitor-associated skin toxicity. The pharmacogenomics journal. 2011. Parmar S, et al. |
| | PI3K/PTEN/AKT/mTOR pathway genetic variation predicts toxicity and distant progression in lung cancer patients receiving platinum-based chemotherapy. Lung cancer (Amsterdam, Netherlands). 2011. Pu Xia, et al. |
| | Pharmacogenetic tests in cancer chemotherapy: what physicians should know for clinical application. The Journal of pathology. 2011. Lee Soo-Youn, et al. |
| | Pharmacogenomic contribution to drug response. Cancer journal (Sudbury, Mass.). 2011. Watson Roshawn G, et al. |
| | PIK3CA mutations frequently coexist with RAS and BRAF mutations in patients with advanced cancers. PloS one. 2011. Janku Filip, et al. |
| | Effects of KRAS, BRAF, NRAS, and PIK3CA mutations on the efficacy of cetuximab plus chemotherapy in chemotherapy-refractory metastatic colorectal cancer: a retrospective consortium analysis. The Lancet. Oncology. 2010. De Roock Wendy, et al. |
| | Targeted cancer therapies in the twenty-first century: lessons from imatinib. Clinical pharmacology and therapeutics. 2010. Stegmeier F, et al. |
| | SNPs in genes coding for ROS metabolism and signalling in association with docetaxel clearance. The pharmacogenomics journal. 2010. Edvardsen H, et al. |
| | A frequent kinase domain mutation that changes the interaction between PI3Kalpha and the membrane. Proceedings of the National Academy of Sciences of the United States of America. 2009. Mandelker Diana, et al. |
| | Structural comparisons of class I phosphoinositide 3-kinases. Nature reviews. Cancer. 2008. Amzel L Mario, et al. |
| | An integrated genomic analysis of human glioblastoma multiforme. Science (New York, N.Y.). 2008. Parsons D Williams, et al. |
| | The structure of a human p110alpha/p85alpha complex elucidates the effects of oncogenic PI3Kalpha mutations. Science (New York, N.Y.). 2007. Huang Chuan-Hsiang, et al. |
| | The genomic landscapes of human breast and colorectal cancers. Science (New York, N.Y.). 2007. Wood Laura D, et al. |
| | High frequency of mutations of the PIK3CA gene in human cancers. Science (New York, N.Y.). 2004. Samuels Yardena, et al. |
| | Antagonism of rat beta-cell voltage-dependent K+ currents by exendin 4 requires dual activation of the cAMP/protein kinase A and phosphatidylinositol 3-kinase signaling pathways. The Journal of biological chemistry. 2003. MacDonald Patrick E, et al. |
LinkOuts
UniProtKB:

Ensembl:

GenAtlas:

GeneCard:

MutDB:

ALFRED:
Common Searches