Gene:
SCNN1G
sodium channel, non-voltage-gated 1, gamma subunit
PharmGKB contains no prescribing info for this . Contact us to report known genotype-based dosing guidelines, or if you are interested in developing guidelines.
PharmGKB has no annotated drug labels with pharmacogenomic information for this . If you know of a drug label with PGx, send us a message.
PharmGKB contains no Clinical Variants that meet the highest level of criteria.
? = Mouse-over for quick help
The table below contains information about pharmacogenomic variants on PharmGKB. Please follow the link in the "Variant" column for more information about a particular variant. Each link in the "Variant" column leads to the corresponding PharmGKB Variant Page. The Variant Page contains summary data, including PharmGKB manually curated information about variant-drug pairs based on individual PubMed publications. The PMIDs for these PubMed publications can be found on the Variant Page.
The tags in the first column of the table indicate what type of information can be found on the corresponding Variant Page on the appropriate tab.
Links in the "Drugs" column lead to PharmGKB Drug Pages.
List of all variant annotations for SCNN1G
Variant?
(147)
Alternate Names ?
Chemicals ?
Alleles ?
(+ chr strand)
Function ?
Amino Acid?
Translation
rs5723
NC_000016.10:g.23215466C>G, NC_000016.9:g.23226787C>G, NG_011909.1:g.37748C>G, NM_001039.3:c.1947C>G, NP_001030.2:p.Leu649=, XM_005255468.1:c.1947C>G, XM_005255469.1:c.1848C>G, XP_005255525.1:p.Leu649=, XP_005255526.1:p.Leu616=, rs2228992, rs57201603

C > G

SNP

L649L

rs5729
NC_000016.10:g.23216075T>A, NC_000016.9:g.23227396T>A, NG_011909.1:g.38357T>A, NM_001039.3:c.*606T>A, XM_005255468.1:c.*606T>A, XM_005255469.1:c.*606T>A, rs60508947

T > A

SNP
Alleles, Functions, and Amino Acid Translations are all sourced from dbSNP 147
Overview
| | |
| --- | --- |
| Alternate Names: | None |
| Alternate Symbols: | ENaCgamma; SCNEG |
| PharmGKB Accession Id: | PA307 |
Details
| | |
| --- | --- |
| Cytogenetic Location: | chr16 : p12.2 - p12.2 |
| GP mRNA Boundary†: | chr16 : 23194040 - 23228201 |
| GP Gene Boundary†: | chr16 : 23184040 - 23231201 |
| Strand: | plus |
Visualization
UCSC has a Genome Browser that you can use to view PharmGKB annotations for this gene in context with many other sources of information.
View on UCSC Browser
† The mRNA boundaries are calculated using the gene's default feature set from NCBI, mapped onto the UCSC Golden Path. PharmGKB sets gene boundaries by expanding the mRNA boundaries by no less than 10,000 bases upstream (5') and 3,000 bases downstream (3') to allow for potential regulatory regions.
PharmGKB Curated Pathways
Pathways created internally by PharmGKB based primarily on literature evidence.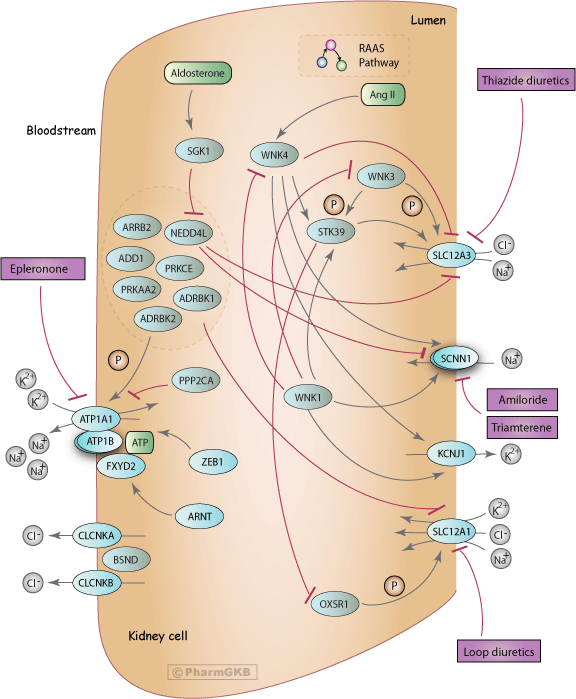 Diuretics Pathway, Pharmacodynamics
Diagrammatic representation of candidate genes involved in the pharmacodynamics of thiazide diuretics, loop diuretics and potassium-sparing diuretics in a stylized kidney cell.
Publications related to SCNN1G: 6
LinkOuts
UniProtKB:

Ensembl:

GenAtlas:

GeneCard:

MutDB:

ALFRED:
Common Searches