PharmGKB contains no prescribing info for this . Contact us to report known genotype-based dosing guidelines, or if you are interested in developing guidelines.
PharmGKB has no annotated drug labels with pharmacogenomic information for this . If you know of a drug label with PGx, send us a message.
PharmGKB contains no Clinical Variants that meet the highest level of criteria.
To see more Clinical Variants with lower levels of criteria, click the button at the bottom of the table.
Type

Other

Variant

Genes

Phenotypes

OMB Race

Unknown
Type

Toxicity/ADR

Variant

Genes

Phenotypes

OMB Race

White

Race Notes

Slovenian
? = Mouse-over for quick help
The table below contains information about pharmacogenomic variants on PharmGKB. Please follow the link in the "Variant" column for more information about a particular variant. Each link in the "Variant" column leads to the corresponding PharmGKB Variant Page. The Variant Page contains summary data, including PharmGKB manually curated information about variant-drug pairs based on individual PubMed publications. The PMIDs for these PubMed publications can be found on the Variant Page.
The tags in the first column of the table indicate what type of information can be found on the corresponding Variant Page on the appropriate tab.
Links in the "Drugs" column lead to PharmGKB Drug Pages.
List of all variant annotations for CAT
Variant?
(147)
Alternate Names ?
Chemicals ?
Alleles ?
(+ chr strand)
Function ?
Amino Acid?
Translation
rs1001179
NC_000011.10:g.34438684C>T, NC_000011.9:g.34460231C>T, NG_013339.1:g.4760C>T, NM_001752.3:c.-330C>T, rs17879971, rs36224099, rs386508782, rs60285691

C > T

SNP
rs10836235
NC_000011.10:g.34439157C>T, NC_000011.9:g.34460704C>T, NG_013339.1:g.5233C>T, NM_001752.3:c.66+78C>T, rs17886119

C > G

C > T

SNP
Alleles, Functions, and Amino Acid Translations are all sourced from dbSNP 147
Overview
| | |
| --- | --- |
| Alternate Names: | None |
| Alternate Symbols: | None |
| PharmGKB Accession Id: | PA26099 |
Details
| | |
| --- | --- |
| Cytogenetic Location: | chr11 : p13 - p13 |
| GP mRNA Boundary†: | chr11 : 34460472 - 34493607 |
| GP Gene Boundary†: | chr11 : 34450472 - 34496607 |
| Strand: | plus |
Visualization
UCSC has a Genome Browser that you can use to view PharmGKB annotations for this gene in context with many other sources of information.
View on UCSC Browser
† The mRNA boundaries are calculated using the gene's default feature set from NCBI, mapped onto the UCSC Golden Path. PharmGKB sets gene boundaries by expanding the mRNA boundaries by no less than 10,000 bases upstream (5') and 3,000 bases downstream (3') to allow for potential regulatory regions.
PharmGKB Curated Pathways
Pathways created internally by PharmGKB based primarily on literature evidence.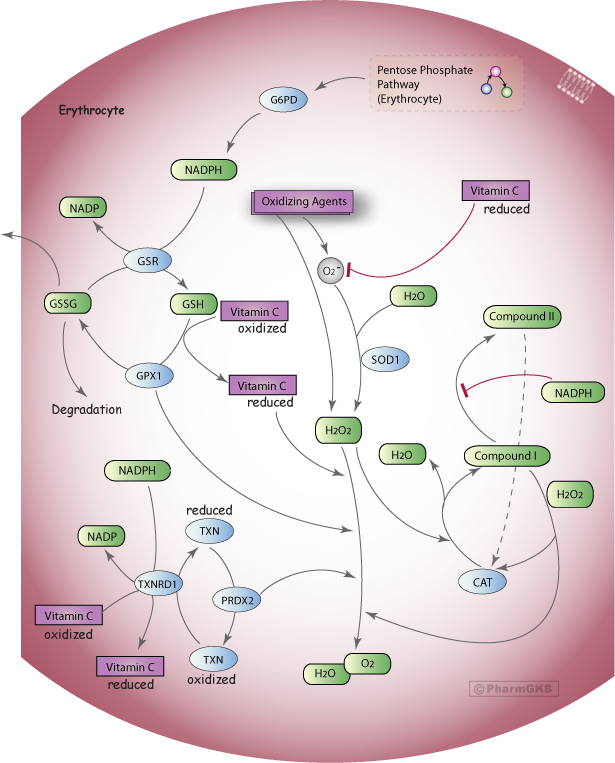 Publications related to CAT: 9
| | |
| --- | --- |
| | Recommendations for Genetic Testing to Reduce the Incidence of Anthracycline-induced Cardiotoxicity. British journal of clinical pharmacology. 2016. Aminkeng Folefac, et al. |
| | Genetic variability in CYP2E1 and catalase gene among currently and formerly alcohol-dependent male subjects. Alcohol and alcoholism (Oxford, Oxfordshire). 2015. Plemenitas Anja, et al. |
| | PharmGKB summary: methylene blue pathway. Pharmacogenetics and genomics. 2013. McDonagh Ellen M, et al. |
| | Doxorubicin pathways: pharmacodynamics and adverse effects. Pharmacogenetics and genomics. 2010. Thorn Caroline F, et al. |
| | Influence of the polymorphism in candidate genes on late cardiac damage in patients treated due to acute leukemia in childhood. Leukemia & lymphoma. 2009. Rajić Vladan, et al. |
| | An association study between catalase -262C>T gene polymorphism, sodium-lithium countertransport activity, insulin resistance, blood lipid parameters and their response to atorvastatin, in Greek dyslipidaemic patients and normolipidaemic controls. Free radical research. 2009. Kosmidou Maria, et al. |
| | Catalase deficiency may complicate urate oxidase (rasburicase) therapy. Free radical research. 2007. Góth László, et al. |
| | Oxidative stress caused by inactivation of glutathione peroxidase and adaptive responses. Biological chemistry. 2003. Miyamoto Yasuhide, et al. |
| | Antioxidant and xenobiotic-metabolizing enzyme gene expression in doxorubicin-resistant MCF-7 breast cancer cells. Cancer research. 1990. Akman S A, et al. |
LinkOuts
UniProtKB:

Ensembl:

GenAtlas:

GeneCard:

MutDB:

ALFRED:
Common Searches