Gene:
ALDH2
aldehyde dehydrogenase 2 family (mitochondrial)
PharmGKB contains no prescribing info for this . Contact us to report known genotype-based dosing guidelines, or if you are interested in developing guidelines.
PharmGKB has no annotated drug labels with pharmacogenomic information for this . If you know of a drug label with PGx, send us a message.
PharmGKB contains no Clinical Variants that meet the highest level of criteria.
To see more Clinical Variants with lower levels of criteria, click the button at the bottom of the table.
Type

Other

Variant

Genes

Phenotypes

OMB Race

Asian
? = Mouse-over for quick help
The table below contains information about pharmacogenomic variants on PharmGKB. Please follow the link in the "Variant" column for more information about a particular variant. Each link in the "Variant" column leads to the corresponding PharmGKB Variant Page. The Variant Page contains summary data, including PharmGKB manually curated information about variant-drug pairs based on individual PubMed publications. The PMIDs for these PubMed publications can be found on the Variant Page.
The tags in the first column of the table indicate what type of information can be found on the corresponding Variant Page on the appropriate tab.
Links in the "Drugs" column lead to PharmGKB Drug Pages.
List of all variant annotations for ALDH2
Variant?
(147)
Alternate Names ?
Chemicals ?
Alleles ?
(+ chr strand)
Function ?
Amino Acid?
Translation
rs671
NC_000012.11:g.112241766G>A, NC_000012.12:g.111803962G>A, NG_012250.1:g.42421G>A, NM_000690.3:c.1510G>A, NM_001204889.1:c.1369G>A, NP_000681.2:p.Glu504Lys, NP_001191818.1:p.Glu457Lys, rs2230021, rs4134524, rs4986830, rs60823674

G > A

SNP

E504K
Alleles, Functions, and Amino Acid Translations are all sourced from dbSNP 147
Overview
| | |
| --- | --- |
| Alternate Names: | None |
| Alternate Symbols: | None |
| PharmGKB Accession Id: | PA24696 |
Details
| | |
| --- | --- |
| Cytogenetic Location: | chr12 : q24.12 - q24.12 |
| GP mRNA Boundary†: | chr12 : 112204691 - 112247789 |
| GP Gene Boundary†: | chr12 : 112194691 - 112250789 |
| Strand: | plus |
Visualization
UCSC has a Genome Browser that you can use to view PharmGKB annotations for this gene in context with many other sources of information.
View on UCSC Browser
† The mRNA boundaries are calculated using the gene's default feature set from NCBI, mapped onto the UCSC Golden Path. PharmGKB sets gene boundaries by expanding the mRNA boundaries by no less than 10,000 bases upstream (5') and 3,000 bases downstream (3') to allow for potential regulatory regions.
PharmGKB Curated Pathways
Pathways created internally by PharmGKB based primarily on literature evidence.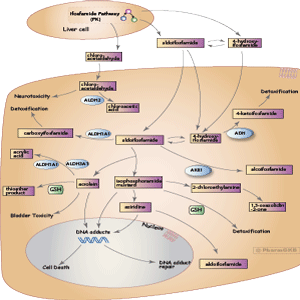 Publications related to ALDH2: 16
| | |
| --- | --- |
| | Epigenomic mapping and effect sizes of noncoding variants associated with psychotropic drug response. Pharmacogenomics. 2015. Higgins Gerald A, et al. |
| | ALDH2*2 but not ADH1B*2 is a causative variant gene allele for Asian alcohol flushing after a low-dose challenge: correlation of the pharmacokinetic and pharmacodynamic findings. Pharmacogenetics and genomics. 2014. Peng Giia-Sheun, et al. |
| | PharmGKB summary: ifosfamide pathways, pharmacokinetics and pharmacodynamics. Pharmacogenetics and genomics. 2014. Lowenberg Daniella, et al. |
| | Population pharmacokinetics and pharmacogenetics of alcohol in Chinese and Indians in Singapore. Journal of clinical pharmacy and therapeutics. 2013. Seng K Y, et al. |
| | The aldehyde dehydrogenase 2 gene is associated with heroin dependence. Drug and alcohol dependence. 2011. Wang Tzu-Yun, et al. |
| | Breaking Barriers in the Genomics and Pharmacogenetics of Drug Addiction. Clinical pharmacology and therapeutics. 2010. Ho M K, et al. |
| | DNATwist: a Web-based tool for teaching middle and high school students about pharmacogenomics. Clinical pharmacology and therapeutics. 2010. Berlin D S, et al. |
| | Human aldehyde dehydrogenase genes: alternatively spliced transcriptional variants and their suggested nomenclature. Pharmacogenetics and genomics. 2009. Black William J, et al. |
| | Pharmacokinetic and pharmacodynamic basis for overcoming acetaldehyde-induced adverse reaction in Asian alcoholics, heterozygous for the variant ALDH2*2 gene allele. Pharmacogenetics and genomics. 2009. Chen Yi-Chyan, et al. |
| | Effects of 5-week ethanol feeding on the liver of aldehyde dehydrogenase 2 knockout mice. Pharmacogenetics and genomics. 2008. Matsumoto Akiko, et al. |
| | Activation of aldehyde dehydrogenase-2 reduces ischemic damage to the heart. Science (New York, N.Y.). 2008. Chen Che-Hong, et al. |
| | Pharmacokinetic and pharmacodynamic basis for partial protection against alcoholism in Asians, heterozygous for the variant ALDH2*2 gene allele. Pharmacogenetics and genomics. 2007. Peng Giia-Sheun, et al. |
| | Diplotype trend regression analysis of the ADH gene cluster and the ALDH2 gene: multiple significant associations with alcohol dependence. American journal of human genetics. 2006. Luo Xingguang, et al. |
| | Aldehyde dehydrogenase 2 plays a role in the bioactivation of nitroglycerin in humans. Arteriosclerosis, thrombosis, and vascular biology. 2005. Mackenzie Isla S, et al. |
| | Effects on sister chromatid exchange frequency of aldehyde dehydrogenase 2 genotype and smoking in vinyl chloride workers. Mutation research. 1998. Wong R H, et al. |
| | Polymorphism of alcohol-metabolizing genes affects drinking behavior and alcoholic liver disease in Japanese men. Alcoholism, clinical and experimental research. 1997. Tanaka F, et al. |
LinkOuts
NCBI Gene:

OMIM:

UCSC Genome Browser:

RefSeq RNA:

RefSeq Protein:

RefSeq DNA:
UniProtKB:

Ensembl:

GenAtlas:

GeneCard:

MutDB:

ALFRED:
Common Searches