Gene:
ADH1C
alcohol dehydrogenase 1C (class I), gamma polypeptide
PharmGKB contains no prescribing info for this . Contact us to report known genotype-based dosing guidelines, or if you are interested in developing guidelines.
PharmGKB has no annotated drug labels with pharmacogenomic information for this . If you know of a drug label with PGx, send us a message.
PharmGKB contains no Clinical Variants that meet the highest level of criteria.
To see more Clinical Variants with lower levels of criteria, click the button at the bottom of the table.
Type

Efficacy

Variant

Genes

Phenotypes

Race

Russian
? = Mouse-over for quick help
The table below contains information about pharmacogenomic variants on PharmGKB. Please follow the link in the "Variant" column for more information about a particular variant. Each link in the "Variant" column leads to the corresponding PharmGKB Variant Page. The Variant Page contains summary data, including PharmGKB manually curated information about variant-drug pairs based on individual PubMed publications. The PMIDs for these PubMed publications can be found on the Variant Page.
The tags in the first column of the table indicate what type of information can be found on the corresponding Variant Page on the appropriate tab.
Links in the "Drugs" column lead to PharmGKB Drug Pages.
List of all variant annotations for ADH1C
Variant?
(147)
Alternate Names ?
Chemicals ?
Alleles ?
(+ chr strand)
Function ?
Amino Acid?
Translation
rs1662060
NC_000004.11:g.100259841T>C, NC_000004.12:g.99338684T>C, NG_011718.1:g.19077A>G, NM_000669.4:c.1103+893A>G, NR_133005.1:n.1429+893A>G, XM_011531588.1:c.1001+893A>G, XM_011531589.1:c.983+893A>G

T > C

SNP
rs283411
NC_000004.11:g.100265957C>A, NC_000004.12:g.99344800C>A, NG_011718.1:g.12961G>T, NM_000669.4:c.567+62G>T, NR_133005.1:n.937+62G>T, XM_011531588.1:c.465+62G>T, XM_011531589.1:c.447+62G>T, rs1215591, rs1662054

C > A

SNP
rs283416
NC_000004.11:g.100271356G>A, NC_000004.12:g.99350199G>A, NG_011718.1:g.7562C>T, NM_000669.4:c.19-2353C>T, NR_133005.1:n.389-2353C>T, XM_011531588.1:c.18+2459C>T, XM_011531589.1:c.-103+814C>T, rs1215587, rs1630421

G > A

SNP
rs698
NC_000004.11:g.100260789T>C, NC_000004.12:g.99339632T>C, NG_011718.1:g.18129A>G, NM_000669.4:c.1048A>G, NP_000660.1:p.Ile350Val, NR_133005.1:n.1374A>G, XM_011531588.1:c.946A>G, XM_011531589.1:c.928A>G, XP_011529890.1:p.Ile316Val, XP_011529891.1:p.Ile310Val, rs1042758, rs117472071, rs1693473, rs17399447, rs17855753, rs3182222, rs4134508, rs56906178

T > -

T > C

SNP

I350V
Alleles, Functions, and Amino Acid Translations are all sourced from dbSNP 147
Overview
| | |
| --- | --- |
| Alternate Names: | ADH3 |
| Alternate Symbols: | None |
| PharmGKB Accession Id: | PA24572 |
Details
| | |
| --- | --- |
| Cytogenetic Location: | chr4 : q23 - q23 |
| GP mRNA Boundary†: | chr4 : 100257649 - 100273917 |
| GP Gene Boundary†: | chr4 : 100254649 - 100283917 |
| Strand: | minus |
Visualization
UCSC has a Genome Browser that you can use to view PharmGKB annotations for this gene in context with many other sources of information.
View on UCSC Browser
† The mRNA boundaries are calculated using the gene's default feature set from NCBI, mapped onto the UCSC Golden Path. PharmGKB sets gene boundaries by expanding the mRNA boundaries by no less than 10,000 bases upstream (5') and 3,000 bases downstream (3') to allow for potential regulatory regions.
The ADH1C gene, also commonly referred to in the literature as ADH3, is part of the alcohol dehydrogenase Class I family. Along with ADH1A and ADH1B, ADH1C catalyzes the metabolism of ethanol to acetaldehyde. Aldehyde dehydrogenase (ALDH) converts the resulting acetaldehyde to acetate. Most metabolism of alcohol occurs in the liver, where all Class I ADHs are expressed. [Article:14693654] Unlike ADH1A and ADH1B, ADH1C is also expressed in the stomach and intestines, and a limited amount of alcohol metabolism occurs in these organs [Articles:16792560, 15099407]. Class I ADHs have high amino acid sequence similarity (~93%) and are clustered on chromosome 4 [Article:11274460]. These enzymes form dimers in vivo and may form heterodimers with other Class I ADHs [Article:15099407].
Increased amounts of acetaldehyde are associated with adverse reactions to alcohol such as flushing, nausea and headaches. The slowed conversion of acetaldehyde to acetate due to reduced function ALDH enzymes and the rapid metabolism of alcohol to acetaldehyde both can lead to acetaldehyde build up. The *1 allele of ADH1C displays more rapid metabolism of ethanol to acetaldehyde than the *2 allele and is therefore associated with these symptoms. It is generally accepted that these adverse reactions to alcohol lead to limited alcohol consumption and subsequently protection against alcoholism. However, at least one study (in a Spanish population) found no protection from alcoholism or liver disease based on ADH1C genotype [Article:15519646].
ADH1C is likely in linkage disequilibrium with ADH1B and therefore does not impact risk of alcoholism independently [Articles:10090900, 14693654]. However, other studies show that ADH1C affects the alcoholism phenotype regardless of ADH1B genotype [Articles:17285601, 17134660].
ADH1C genotypes have been studied in association with laryngeal cancer, but the authors found no conclusive evidence of this association [Article:12668919].
ADH1C*1 is considered to protect against alcoholism because it is a fast acting metabolizer of ethanol, resulting in a build up of acetaldehyde. Compared to the *2 allele, this variant metabolizes ethanol 2.5 times as quickly in vitro [Article:14693654]. The accumulated acetaldehyde results in flushing and other uncomfortable side affects, and typically carriers consume less alcohol accordingly. However, some studies have indicated that this allele has minimal affect on alcohol consumption as compared to ADH1B alleles [Article:16792560]. ADH1C*1 is very common in Asians. In Caucasians, neither the *1 or *2 alleles are the large majority, but heterozygotes are common.
Citation
History

Submitted by Michelle Whirl Carrillo

Key Publications

Overview of the role of alcohol dehydrogenase and aldehyde dehydrogenase and their variants in the genesis of alcohol-related pathology. The Proceedings of the Nutrition Society. 2004. Crabb David W, Matsumoto Michinaga, Chang David, You Min.
Pooled analysis of alcohol dehydrogenase genotypes and head and neck cancer: a HuGE review. American journal of epidemiology. 2004. Brennan Paul, Lewis Sarah, Hashibe Mia, Bell Douglas A, Boffetta Paolo, Bouchardy Christine, Caporaso Neil, Chen Chu, Coutelle Christiane, Diehl Scott R, Hayes Richard B, Olshan Andrew F, Schwartz Stephen M, Sturgis Erich M, Wei Qingyi, Zavras Athanasios I, Benhamou Simone.

Variant Summaries
rs698
Drugs

Drug (1)

Diseases
PharmGKB Curated Pathways
Pathways created internally by PharmGKB based primarily on literature evidence.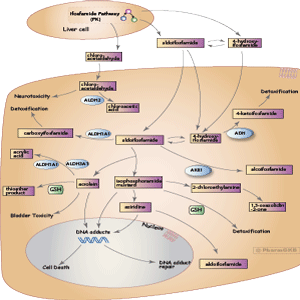 Publications related to ADH1C: 15
| | |
| --- | --- |
| | Genetic polymorphisms of pharmacogenomic VIP variants in the lhoba population of southwest China. International journal of clinical and experimental pathology. 2015. He Yongjun, et al. |
| | Dissecting ancestry genomic background in substance dependence genome-wide association studies. Pharmacogenomics. 2015. Polimanti Renato, et al. |
| | Pharmacogenomic assessment of cisplatin-based chemotherapy outcomes in ovarian cancer. Pharmacogenomics. 2014. Khrunin Andrey V, et al. |
| | Genome-wide significant association between alcohol dependence and a variant in the ADH gene cluster. Addiction biology. 2011. Frank Josef, et al. |
| | Breaking Barriers in the Genomics and Pharmacogenetics of Drug Addiction. Clinical pharmacology and therapeutics. 2010. Ho M K, et al. |
| | ADH single nucleotide polymorphism associations with alcohol metabolism in vivo. Human molecular genetics. 2009. Birley Andrew J, et al. |
| | Alcoholism and alcohol drinking habits predicted from alcohol dehydrogenase genes. The pharmacogenomics journal. 2008. Tolstrup Janne Schurmann, et al. |
| | The ontogeny of drug metabolism enzymes and implications for adverse drug events. Pharmacology & therapeutics. 2008. Hines Ronald N. |
| | Multiple ADH genes modulate risk for drug dependence in both African- and European-Americans. Human molecular genetics. 2007. Luo Xingguang, et al. |
| | Functional assessment of human alcohol dehydrogenase family in ethanol metabolism: significance of first-pass metabolism. Alcoholism, clinical and experimental research. 2006. Lee Shou-Lun, et al. |
| | Diplotype trend regression analysis of the ADH gene cluster and the ALDH2 gene: multiple significant associations with alcohol dependence. American journal of human genetics. 2006. Luo Xingguang, et al. |
| | Overview of the role of alcohol dehydrogenase and aldehyde dehydrogenase and their variants in the genesis of alcohol-related pathology. The Proceedings of the Nutrition Society. 2004. Crabb David W, et al. |
| | Pooled analysis of alcohol dehydrogenase genotypes and head and neck cancer: a HuGE review. American journal of epidemiology. 2004. Brennan Paul, et al. |
| | Effects of the ADH3, CYP2E1, and GSTP1 genetic polymorphisms on their expressions in Caucasian lung tissue. Lung cancer (Amsterdam, Netherlands). 2002. Yang Mihi, et al. |
| | The RsaI polymorphism of CYP2E1 and susceptibility to alcoholic liver disease in Caucasians: effect on age of presentation and dependence on alcohol dehydrogenase genotype. Pharmacogenetics. 1998. Grove J, et al. |
LinkOuts
RefSeq DNA:

UniProtKB:

Ensembl:

GenAtlas:

GeneCard:
Common Searches