Gene:
LIPC
lipase, hepatic
PharmGKB contains no prescribing info for this . Contact us to report known genotype-based dosing guidelines, or if you are interested in developing guidelines.
PharmGKB has no annotated drug labels with pharmacogenomic information for this . If you know of a drug label with PGx, send us a message.
PharmGKB contains no Clinical Variants that meet the highest level of criteria.
To see more Clinical Variants with lower levels of criteria, click the button at the bottom of the table.
? = Mouse-over for quick help
The table below contains information about pharmacogenomic variants on PharmGKB. Please follow the link in the "Variant" column for more information about a particular variant. Each link in the "Variant" column leads to the corresponding PharmGKB Variant Page. The Variant Page contains summary data, including PharmGKB manually curated information about variant-drug pairs based on individual PubMed publications. The PMIDs for these PubMed publications can be found on the Variant Page.
The tags in the first column of the table indicate what type of information can be found on the corresponding Variant Page on the appropriate tab.
Links in the "Drugs" column lead to PharmGKB Drug Pages.
List of all variant annotations for LIPC
Variant?
(147)
Alternate Names ?
Chemicals ?
Alleles ?
(+ chr strand)
Function ?
Amino Acid?
Translation
rs1800588
NC_000015.10:g.58431476C>T, NC_000015.9:g.58723675C>T, NG_011465.1:g.4501C>T, NM_000236.2:c.-557C>T, XM_005254372.1:c.-40-517C>T, XM_005254373.1:c.-40-517C>T, XM_011521551.1:c.-40-517C>T, XR_429537.2:n.-124G>A, XR_932289.1:n.-124G>A, rs52833592

C > T

SNP
Alleles, Functions, and Amino Acid Translations are all sourced from dbSNP 147
Overview
| | |
| --- | --- |
| Alternate Names: | None |
| Alternate Symbols: | HL; HTGL |
| PharmGKB Accession Id: | PA230 |
Details
| | |
| --- | --- |
| Cytogenetic Location: | chr15 : q21.3 - q23 |
| GP mRNA Boundary†: | chr15 : 58702953 - 58861073 |
| GP Gene Boundary†: | chr15 : 58692953 - 58864073 |
| Strand: | plus |
Visualization
UCSC has a Genome Browser that you can use to view PharmGKB annotations for this gene in context with many other sources of information.
View on UCSC Browser
† The mRNA boundaries are calculated using the gene's default feature set from NCBI, mapped onto the UCSC Golden Path. PharmGKB sets gene boundaries by expanding the mRNA boundaries by no less than 10,000 bases upstream (5') and 3,000 bases downstream (3') to allow for potential regulatory regions.
PharmGKB Curated Pathways
Pathways created internally by PharmGKB based primarily on literature evidence.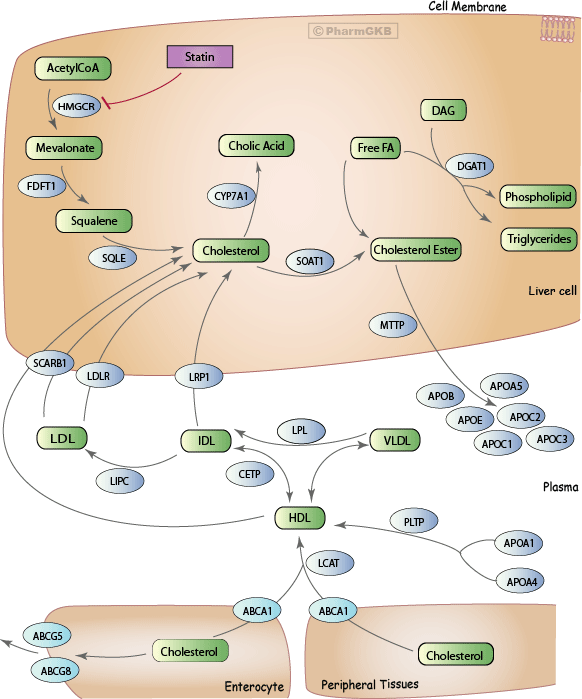 Statin Pathway, Pharmacodynamics
Genes involved in mediating statin effects on hepatic cholesterol metabolism and consequent effects on plasma lipoprotein transport.
Publications related to LIPC: 16
| | |
| --- | --- |
| | Seventeen years of statin pharmacogenetics: a systematic review. Pharmacogenomics. 2016. Leusink Maarten, et al. |
| | Human pharmacogenomic variation of antihypertensive drugs: from population genetics to personalized medicine. Pharmacogenomics. 2014. Polimanti Renato, et al. |
| | Atenolol Induced HDL-C Change in the Pharmacogenomic Evaluation of Antihypertensive Responses (PEAR) Study. PloS one. 2013. McDonough Caitrin W, et al. |
| | Added value of pharmacogenetic testing in predicting statin response: results from the REGRESS trial. The pharmacogenomics journal. 2012. van der Baan F H, et al. |
| | Single nucleotide polymorphisms in genes that are associated with a modified response to statin therapy: the Rotterdam Study. The pharmacogenomics journal. 2011. de Keyser C E, et al. |
| | A gene score of nine LDL and HDL regulating genes is associated with fluvastatin-induced cholesterol changes in women. Journal of lipid research. 2010. Hamrefors Viktor, et al. |
| | Arrhythmia pharmacogenomics: methodological considerations. Current pharmaceutical design. 2009. Roden Dan M, et al. |
| | Genetic loci associated with plasma concentration of low-density lipoprotein cholesterol, high-density lipoprotein cholesterol, triglycerides, apolipoprotein A1, and Apolipoprotein B among 6382 white women in genome-wide analysis with replication. Circulation. Cardiovascular genetics. 2008. Chasman Daniel I, et al. |
| | Common genetic variation in six lipid-related and statin-related genes, statin use and risk of incident nonfatal myocardial infarction and stroke. Pharmacogenetics and genomics. 2008. Hindorff Lucia A, et al. |
| | Lymphotoxin beta receptor-dependent control of lipid homeostasis. Science (New York, N.Y.). 2007. Lo James C, et al. |
| | The -514C/T polymorphism of the hepatic lipase gene significantly modulates the HDL-cholesterol response to statin treatment. Atherosclerosis. 2005. Lahoz Carlos, et al. |
| | Interactions between the -514C->T polymorphism of the hepatic lipase gene and lifestyle factors in relation to HDL concentrations among US diabetic men. The American journal of clinical nutrition. 2005. Zhang Cuilin, et al. |
| | Interactions of dietary fat intake and the hepatic lipase -480C-->T polymorphism in determining hepatic lipase activity: the Hoorn Study. The American journal of clinical nutrition. 2005. Bos Griët, et al. |
| | An association study of 43 SNPs in 16 candidate genes with atorvastatin response. The pharmacogenomics journal. 2005. Thompson J F, et al. |
| | Dietary fat intake determines the effect of a common polymorphism in the hepatic lipase gene promoter on high-density lipoprotein metabolism: evidence of a strong dose effect in this gene-nutrient interaction in the Framingham Study. Circulation. 2002. Ordovas Jose M, et al. |
| | Common hepatic lipase gene promoter variant determines clinical response to intensive lipid-lowering treatment. Circulation. 2001. Zambon A, et al. |
LinkOuts
UniProtKB:

Ensembl:

GenAtlas:

GeneCard:

MutDB:

ALFRED:
Common Searches