Chemical: Drug
vitamin c
PharmGKB contains no prescribing info for this . Contact us to report known genotype-based dosing guidelines, or if you are interested in developing guidelines.
PharmGKB has no annotated drug labels with pharmacogenomic information for this . If you know of a drug label with PGx, send us a message.
PharmGKB contains no Clinical Variants that meet the highest level of criteria.
? = Mouse-over for quick help
The table below contains information about pharmacogenomic variants on PharmGKB. Please follow the link in the "Variant" column for more information about a particular variant. Each link in the "Variant" column leads to the corresponding PharmGKB Variant Page. The Variant Page contains summary data, including PharmGKB manually curated information about variant-drug pairs based on individual PubMed publications. The PMIDs for these PubMed publications can be found on the Variant Page.
The tags in the first column of the table indicate what type of information can be found on the corresponding Variant Page.
Links in the "Gene" column lead to PharmGKB Gene Pages.
List of all variant annotations for vitamin c
Gene ?
Variant?
(147)
Alternate Names ?
Chemicals ?
Alleles ?
(+ chr strand)
Function ?
Amino Acid?
Translation
VA
G6PD
A- 202A_376G
N/A
N/A
N/A
Alleles, Functions, and Amino Acid Translations are all sourced from dbSNP 147
Overview
Generic Names
AA
Ascorbate
Ascorbic Acid
L-Ascorbate
L-Ascorbic Acid
L-Lyxoascorbic Acid
L-Xyloascorbic Acid
Trade Names
Adenex
Allercorb
Antiscorbic Vitamin
Antiscorbutic Vitamin
Arco-Cee
Ascoltin
Ascor-B.I.D.
Ascorb
Ascorbajen
Ascorbicab
Ascorbicap
Ascorbicin
Ascorbin
Ascorbutina
Ascorin
Ascorteal
Ascorvit
C-Level
C-Long
C-Quin
C-Span
C-Vimin
Cantan
Cantaxin
Catavin C
Ce Lent
Cebicure
Cebid
Cebion
Cebione
Cecon
Cee-Caps Td
Cee-Vite
Cegiolan
Ceglion
Celaskon
Celin
Cemagyl
Cemill
Cenetone
Cenolate
Cereon
Cergona
Cescorbat
Cetamid
Cetane
Cetane-Caps Tc
Cetane-Caps Td
Cetebe
Cetemican
Cevalin
Cevatine
Cevex
Cevi-Bid
Cevimin
Cevital
Cevitamic Acid
Cevitamin
Cevitan
Cevitex
Cewin
Ciamin
Cipca
Citriscorb
Colascor
Concemin
Davitamon C
Duoscorb
Hicee
Hybrin
IDO-C
Kyselina Askorbova
Laroscorbine
Lemascorb
Liqui-Cee
Meri-C
Natrascorb
Planavit C
Proscorbin
Redoxon
Ribena
Roscorbic
Scorbacid
Scorbu-C
Secorbate
Sodascorbate
Testascorbic
Vicelat
Vicin
Vicomin C
Viforcit
Viscorin
Vitace
Vitacee
Vitacimin
Vitacin
Vitamisin
Vitascorbol
Xitix
PharmGKB Accession Id
PA451898
Type(s):
Drug
Description
A six carbon compound related to glucose. It is found naturally in citrus fruits and many vegetables. Ascorbic acid is an essential nutrient in human diets, and necessary to maintain connective tissue and bone. Its biologically active form, vitamin C, functions as a reducing agent and coenzyme in several metabolic pathways. Vitamin C is considered an antioxidant.
Source: Drug Bank
Indication
Used to treat vitamin C deficiency, scurvy, delayed wound and bone healing, urine acidification, and in general as an antioxidant. It has also been suggested to be an effective antiviral agent.
Source: Drug Bank
Other Vocabularies
Information pulled from DrugBank has not been reviewed by PharmGKB.
Pharmacology, Interactions, and Contraindications
Mechanism of Action
In humans, an exogenous source of ascorbic acid is required for collagen formation and tissue repair by acting as a cofactor in the posttranslational formation of 4-hydroxyproline in -Xaa-Pro-Gly- sequences in collagens and other proteins. Ascorbic acid is reversibly oxidized to dehydroascorbic acid in the body. These two forms of the vitamin are believed to be important in oxidation-reduction reactions. The vitamin is involved in tyrosine metabolism, conversion of folic acid to folinic acid, carbohydrate metabolism, synthesis of lipids and proteins, iron metabolism, resistance to infections, and cellular respiration.
Source: Drug Bank
Pharmacology
Ascorbic Acid (vitamin C) is a water-soluble vitamin indicated for the prevention and treatment of scurvy, as ascorbic acid deficiency results in scurvy. Collagenous structures are primarily affected, and lesions develop in bones and blood vessels. Administration of ascorbic acid completely reverses the symptoms of ascorbic acid deficiency.
Source: Drug Bank
Absorption, Distribution, Metabolism, Elimination & Toxicity
Biotransformation
Hepatic. Ascorbic acid is reversibly oxidised (by removal of the hydrogen from the enediol group of ascorbic acid) to dehydroascorbic acid. The two forms found in body fluids are physiologically active. Some ascorbic acid is metabolized to inactive compounds including ascorbic acid-2-sulfate and oxalic acid.
Source: Drug Bank
Chemical Properties
SMILES
[H][C@@]1(OC(=O)C(O)=C1O)[C@@H](O)CO
Source: Drug Bank
InChI String
InChI=1S/C6H8O6/c7-1-2(8)5-3(9)4(10)6(11)12-5/h2,5,7-10H,1H2/t2-,5+/m0/s1
Source: Drug Bank
PharmGKB Curated Pathways
Pathways created internally by PharmGKB based primarily on literature evidence.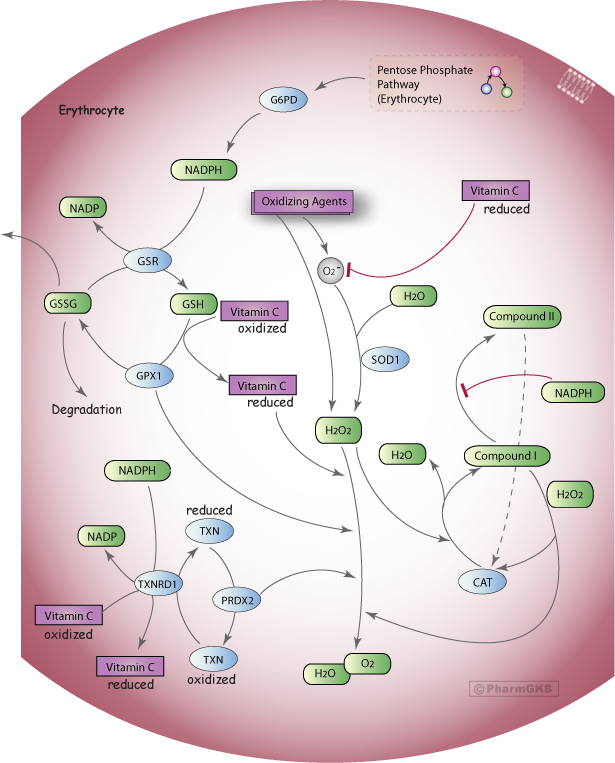 Pentose Phosphate Pathway (Erythrocyte)
A simplified diagram to show the role of G6PD in generating NADPH in red blood cells - this can then be utilized in the Oxidative Stress Regulatory and Methylene Blue Pathways.
Publications related to vitamin c: 10
| | |
| --- | --- |
| | PharmGKB summary: uric acid-lowering drugs pathway, pharmacodynamics. Pharmacogenetics and genomics. 2014. McDonagh Ellen M, et al. |
| | PharmGKB summary: methylene blue pathway. Pharmacogenetics and genomics. 2013. McDonagh Ellen M, et al. |
| | PharmGKB summary: very important pharmacogene information for G6PD. Pharmacogenetics and genomics. 2012. McDonagh Ellen M, et al. |
| | Medications and glucose-6-phosphate dehydrogenase deficiency: an evidence-based review. Drug safety : an international journal of medical toxicology and drug experience. 2010. Youngster Ilan, et al. |
| | Glucose-6-phosphate dehydrogenase deficiency. Lancet. 2008. Cappellini M D, et al. |
| | 100 years and counting: prospects for defeating Alzheimer's disease. Science (New York, N.Y.). 2006. Roberson Erik D, et al. |
| | Metoclopramide-induced methemoglobinemia in a patient with co-existing deficiency of glucose-6-phosphate dehydrogenase and NADH-cytochrome b5 reductase: failure of methylene blue treatment. Haematologica. 2001. Karadsheh N S, et al. |
| | Concise review: methemoglobinemia. American journal of hematology. 1993. Mansouri A, et al. |
| | Ascorbic-acid-induced haemolysis in G-6-PD deficiency. Lancet. 1990. Mehta J B, et al. |
| | Letter: Ascorbic acid-induced hemolysis in G-6-PD deficiency. Annals of internal medicine. 1975. Campbell G D, et al. |
LinkOuts
These are trials that mention vitamin c and are related to either pharmacogenetics or pharmacogenomics.
No trials loaded.
No NURSA datasets available.